Our customers sometimes ask us to provide more information about the customized glass tables: which ones are perfect for feet 3D scanning under pressure for medical applications, what issues to avoid, while creating an own customized table, and what issues to take into account.
We ourselves have experimented with several editions of customized glass tables and, in our opinion, the most convenient glass table was this one:
Legs and feet 3D-scanning techniques are summarized in a separate article, while the current article contains the advantages and disadvantages of various glass tables editions to be taken into account.
General information and requirements for a glass table

We recommend using polycarbonate glass
This glass should not be thicker than 5 mm: in this case, you can benefit from an easier alignment of a foot sole (captured through the glass) with the leg itself (standing on the glass and captured in a 360-degrees scan)
Too thin glass will bend under leg pressure, so finding a good compromise in a glass thickness is the most important task here
Glass table, Edition 0: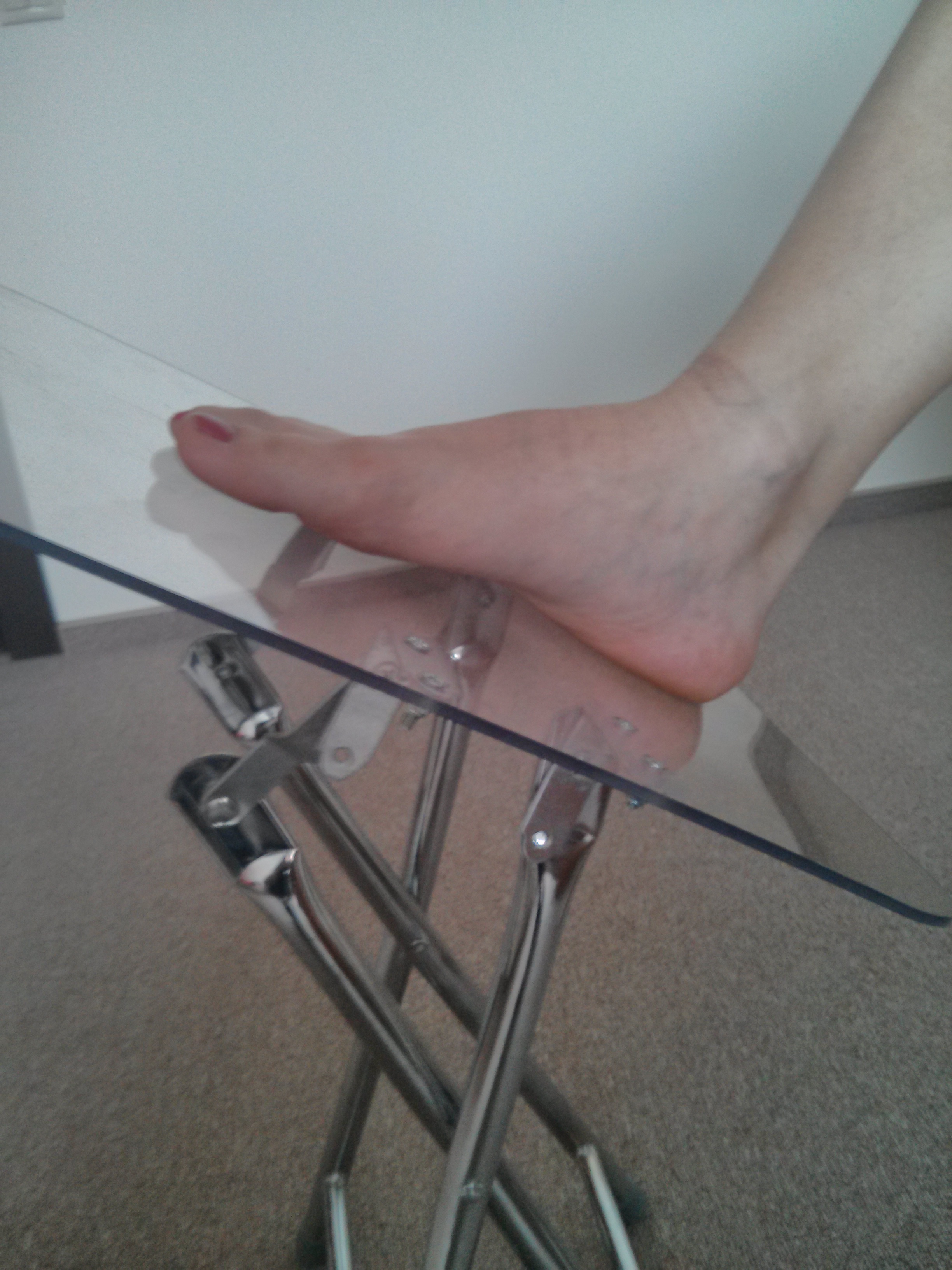 This was the very first edition ("zero" one) of the glass table, we've started experimenting with.
It turned out, that an extra support for a table stability was needed. Additionally, the glass was still bending a little bit under leg's pressure.
Glass table, Edition 1
We've added an additional frame to prevent bending of the glass and a "stopper" for more stability of the construction overall.
However, that glass table still wasn't perfect, since it did not leave enough space for Eva to 3D-scan sides of the foot from the bottom. Therefore, we decided to make a glass table wider.
Glass table, Edition 2
This edition of a glass table turned out to be the most convenient one due to the following factors:
The angle (i.e. how exactly a foot can be placed on the glass), can be adjusted, which provides more flexibility
The metal frame around the polycarbonate part can be used as an additional feature for the tracking, while 3D scanning
We used the glass with 4 mm thickness, so there is no polycarbonate bending, when the foot is pressing the glass
The custom-made folding bars provide more flexibility and, additionally, they help to find the optimal position of the table. Here is the link to details, that we used:

Profile Swivel Brackets

.
And here is the CAD drawing of the table itself:
Overall, we advise taking these recommendations into account, while creating your own custom-made glass table for medical 3D scanning application.
We are here to help! If you have any questions or issues, please do not hesitate to contact our team by emailing support@artec-group.com or by clicking on "Ask Support" button on the upper part of the screen. We will always be happy to assist you and will get back to you as soon as we can.