09 March 2015
Any scanner would have difficulty capturing a surface that has no features to track, especially when the surface is too thin to add any. Let's use a key to show how to make scanning these objects easier.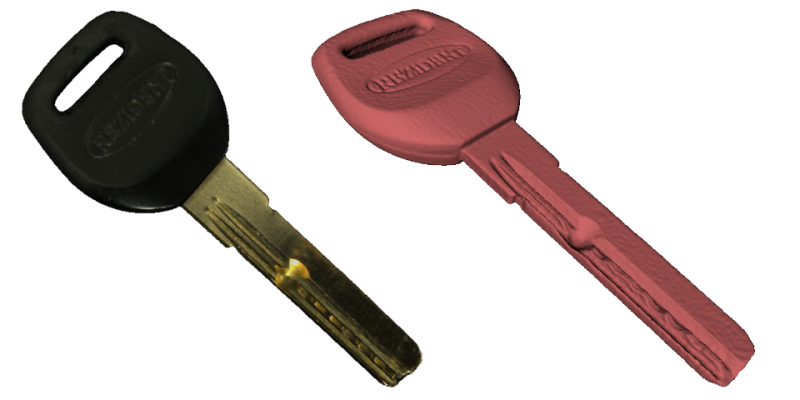 Tracking is the first big problem – the area of the edges of the key is too small for the scanner to record it. The easiest solution is to use a proper background. As long as the scanner "sees" a discrete surface behind the edges of the key, scanning will proceed the way it should.
The second potential problem is alignment. The key has similar geometry on the larger sides, and the edges have no features for effective alignment. We'd normally recommend adding texture to the object, but since the key is too small, it'd be best to do an all-around scan in one go. For that, you'll need to fix the key, for example with pliers, and use a sheet of paper as a background.
The third and last problem you may face is that the Global Registration algorithm may not have enough data for accurate registration. That goes for the edges of the key in particular. We already have the sheet of paper as a background to fine-tune tracking, and we can use it for registration as well. Just remember that the paper should have text or some other kind of marking on it.
Our makeshift scanning setup looks like this:
This way the key can be scanned from all sides, there is enough background for tracking, and the background has rich texture for accurate registration.
We are here to help! If you have any questions or issues, please do not hesitate to contact our team by emailing support@artec-group.com or by clicking on "Ask Support" button on the upper part of the screen. We will always be happy to assist you and will get back to you as soon as we can.