28 August 2013
We are happy to announce the release of Artec Studio 9 major update with tons of new features :)
Absolutely no manual alignment

Make scan after scan after scan. All frames within a scan will be aligned automatically and all scans will be aligned between each other. Unlike any other software, there will be no cumbersome manual alignment procedures during post processing.
 
Integration with photogrammetry solutions


Photogrammetry is useful for industry design and product development and is widely used in other fields. Photogrammetry lets you easily scan really big objects, improve accuracy, and boost productivity by reducing post-processing time.

All that you need is to import photogrammetry measurement results and scan the same object with special reference targets.

A set of powerful tools for editing scans and fusions
With the press of a button automatically remove all outliers, having prepared the surface to final post-processing.
Erase geometry features manually easier and faster with Defeature brush.
Does your surface have an imperfection? Use Defeature brush to automatically erase it and fill the hole with one click.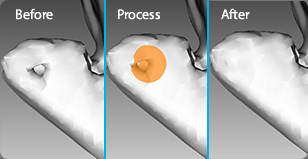 Sweep away auxiliary surfaces

Easily remove the table or the floor that you are scanning on from the scene.This will isolate your desired object for performance considerations and aesthetic reasons.
Turn off the bright light!


Have you ever tried to scan a live chicken? We, at Artec, have tried it. After getting a good workout running around the farm, we realized that it's almost impossible to scan a live chicken from the back. That is because the bird was so fascinated by the bright, flashing lights of the scanner, she kept turning her head to look at it.

It is sometimes necessary to turn off the bright flash. Now you can.

User Presets

Now your parameter values and settings can be saved in your profile. You can have several user presets for different tasks and projects. Toggling between saved profiles, you change all settings at once. Several people can use the same PC with ease.

 
New rendering approach is perfect for Artec Scanner — Spider

Initially, scans are easier to view as a point cloud. Once fused, the surface is easier to view as a solid model.

With new smart render mode called "Points and solid" surfaces are clearly visible and identifiable. Scans are automatically displayed in the Point mode, while fusions are in the Solid mode.