Specifications:
Up to 6 hours of continuous scanning
Type of battery: Lithium-polymer
Output voltage: 12V
Capacity: 16000 mAh/59.2 Whr
Note: for more information, feel free to download leaflet attached to the article.
Compatible scanners:
Eva / Eva Lite
Spider / Space Spider
L2
MHT (T2 series)
MH (W2 series)
How to use:
Please begin by fully charging your battery. To do so, plug the power adapter (charger) into the battery's INPUT socket and into a wall outlet. The charge status can be conveniently read from a row of LEDs on the battery itself.
Once fully charged, you may connect your battery's OUTPUT socket to your Artec3D scanner using the supplied battery cable. Please refer to the picture below: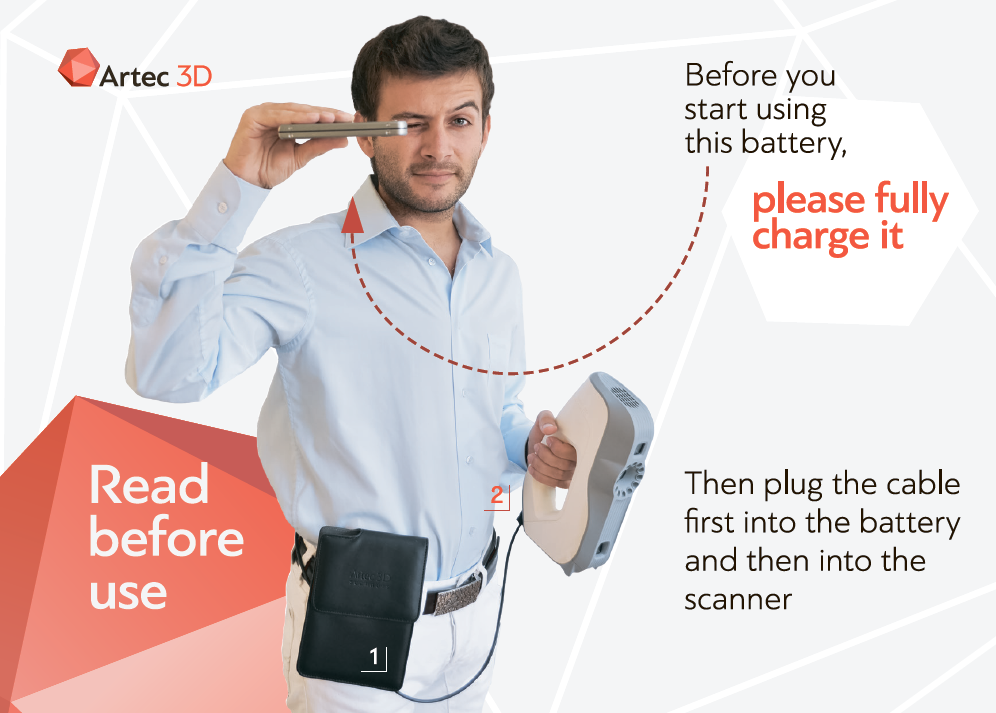 Heavy usage of the Artec battery:

The most severe usage of the Artec battery that we are aware of took place in an expedition to Kenya. The 3D-scanning sessions in the Kenyan desert lasted several days. During the first day, our team 3D-scanned for at least 4 hours in total (bones and skulls of ancient crocodiles, elephants, and turtles). At the end of the day, the battery still wasn't depleted and even lasted through our second day of scanning.
Click here for warranty information
In case you experience any issues with your Artec 3D scanner or require technical assistance with your device or Artec Studio, in the first instance please contact your local Artec dealer/distributor directly. You can also contact the Artec Support Team by clicking on "Submit a request" button on the bottom right part of the screen or by emailing support@artec3d.com