This article will assist you in selecting the optimal hardware for your 3D scanning and postprocessing needs. A list of general hardware and software requirements can be found further below.
For more information about a particular component (i.e. OS, CPU or RAM), scroll down to the corresponding section.

In order to gain a better understanding of how Artec Studio algorithms impact different PC components, please refer to this article.
Another good resource is the "Compatible hardware" section, where we regularly publish articles about performance benchmarks and various hardware recommendations.
1. General requirements
OS
Windows 7, 8 or 10 (x64).
Artec Studio can be installed on Apple computers using Boot Camp (MacOS is not supported).

USB

Artec Micro: 1x USB 3.0 or 3.1 port (type A).
The Artec Micro will not work with a USB 2.0 port.

Artec Ray: 1x USB 2.0, 3.0, or 3.1 port (type A).

Artec Eva, Eva Lite, Spider, Space Spider: 1 x USB 2.0 port (type A).
(USB 3.0 and 3.1 compatibility information)
Important note: USB 3.1 compatibility is not guaranteed and a special Thunderbolt 3 adapter may be required. For more information on the issue, please refer to the articles USB 3.1 issues and Kanex adapter.


CPU
Intel Core i5 (76xx and later)
Intel Core i7
Intel Core i9

RAM
min. 12 GB for Artec Eva
min. 18 GB for Artec Spider
min. 32GB for Artec Leo, Artec Micro, and Artec Ray

Graphics/video cards

Recommended: NVIDIA GeForce 400 Series or higher, at least 1 GB of VRAM memory

NVIDIA Quadro and Intel cards are officially supported starting from Artec Studio version 11.

for Artec Micro: Automatic Scanning Path - NVIDIA GPU, with at least 3 GB of VRAM, CUDA > 3.5

Not supported:
OS: Windows XP, Windows Vista, Mac OS, any 32-bit OS
Graphics/video cards: AMD FirePro M6100 Fire GL V
CPUs: Intel Core i7 8550U, Intel Core i5 8350U, Intel Core i7-1065G7 with

integrated graphics
Not recommended:
Intel Xeon and AMD CPUs
NVIDIA SLI and AMD CrossFire configurations
2. Detailed requirements
2.1. Operating system

We recommend Windows 7, 8 or 10 (64-bit) operating systems.
Windows XP and Vista are not supported.
Mac OS is not supported, however, Artec Studio can be installed on Apple machines using Boot Camp
Artec Studio does not support Virtual Machines (Parallels, VMware, VirtualBox, HyperV etc).
Starting with Artec Studio 9.2, 32-bit operating systems are no longer supported.
More information about the compatibility of discontinued Artec scanners with Windows 8 and 10 is available in

this article

.
2.2. USB

Artec Micro:
One USB 3.0 or 3.1 port (type A) is required for the Artec Micro scanner.
The Micro scanner will not work with a USB 2.0 port.
Artec Ray:
One USB 2.0, 3.0, or 3.1 port (type A) is needed for the Artec Ray.
The Ray can also be controlled wirelessly via the Artec Remote app (available for iOS and Android). In this case, you will need a MicroSD card slot or adapter on your PC in order to transfer the data.

Artec Eva, Eva Lite, Spider, and Space Spider scanners

One USB 2.0 port is required for an Artec Eva, Eva Lite, Spider, or Space Spider scanner.
These scanners are also

compatible

with USB 3.0.
When connecting more than one scanner to a single computer, using a powerful desktop PC is highly recommended. Furthermore, an independent USB 2.0 host controller and/or PCI Express USB 2.0 card per scanner is required. Each scanner should be plugged into a separate USB controller.
USB 3.1 chipsets might have compatibility issues, especially in portable devices (i.e. laptops, tablets, hybrids). Be sure to consult the following articles: USB 3.1 issues and Kanex adapter before making any hardware purchasing decisions.
You can verify which USB controller is installed in your laptop or PC by checking the Universal Serial Bus controllers section in Windows Device Manager.
Laptops with multiple USB controllers

Pictured above is a laptop equipped with two separate USB controllers (USB 3.0 and USB 3.1). Additionally, there are two USB 3.0 root hubs.
If your PC has at least one USB 3.0 controller available, you need to find out which USB port this 3.0 controller is linked to. Connecting your scanner to this specific USB 3.0 port will resolve the issues and no further action will be necessary.
Laptops with USB 3.1 controller

Pictured above is a laptop equipped with a USB 3.1 controller only. No USB 3.0 controller is available. The USB 3.0 root hubs (ports) do not count, since all USB traffic is still being routed through the main USB 3.1 host controller. In case your machine is equipped with a USB 3.1 controller only (or multiple USB 3.1 controllers), you can increase your Eva/Spider scanner's performance by using the Kanex adapter.
Please make sure that you have a Thunderbolt 3 port available to use the Kanex adapter.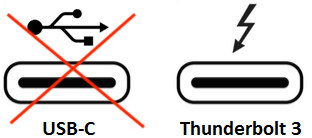 2.3. CPU
Intel processors
We recommend Intel Core i5-76xx and later, or Intel Core i7 processors (

Nehalem microarchitecture

and later)
Intel i9 CPUs are blazing fast and highly recommended. We use Intel Core i9-7900X (3.30 GHz) CPUs for in-house postprocessing and can confirm that they work great!
CPU benchmark tests can be found

here

. CPUs ranked higher on the list have better performance.
While Xeon CPUs will work with Artec Studio, they are generally not recommended. In our experience, they may provide lower scanning speed and lower processing performance in comparison with similar-specced Core i5/i7/i9 CPUs.
AMD processors
AMD CPUs are not recommended. A number of customers have reported that AMD-based systems occasionally cause "KMP_AFFINITY" error messages and fail to initiate the scanning process. If you are considering purchasing a new PC, we strongly recommend against systems equipped with AMD CPUs.
2.4. RAM
You will need at least 12 GB of RAM for post-processing projects captured with Artec Eva; 18 GB for projects captured with Artec Spider or Space Spider; and at least 32 GB for projects captured with Artec Leo, Artec Micro and Artec Ray.
The general rule is that for reasonably fast post-processing, your RAM capacity should be three times the size of your Artec Studio project.
2.5. Graphics/video cards
Link to main article about graphics: Choosing a suitable graphics card for 3D scanning and post-processing
Additionally, consult these articles for more information:
Highly recommended: this link, which provides benchmarks of high-performance video cards.
In case you experience any issues with your Artec 3D scanner or require technical assistance with your device or Artec Studio, in the first instance please contact your local Artec dealer/distributor directly. You can also contact the Artec Support Team by clicking on "Submit a request" button on the bottom right part of the screen or by emailing support@artec3d.com