Introduction
The offline activation procedure was created for users who do not have access to an Internet connection or are not allowed to connect to the Internet due to company policy, security concerns or for any other reason.
Important note: Artec Studio licenses activated offline cannot be deactivated at a later date. Please use the offline activation method only if you have no other available option. Do not use it for testing purposes.
You will need
An offline PC that meets Artec's

minimal hardware requirements

A second PC or tablet of any kind, with a working internet connection (e.g. your local reseller's PC). This PC is only needed during the activation procedure in order to access the Artec license server.
The Artec Studio installation file, which can be downloaded from the my.artec3d.com

"My software"

section.
A flash drive or any other storage media suitable for transferring files (required in order to transfer the installation and activation files between your offline and online computers).
Installation

Transfer the Artec Studio installer (downloaded from

my.artec3d.com

) to your offline computer.
Run the Artec Studio installer and follow the on-screen prompts.
Once you reach the login/password dialog window (as shown below), click the "Continue offline..." button in the bottom left corner: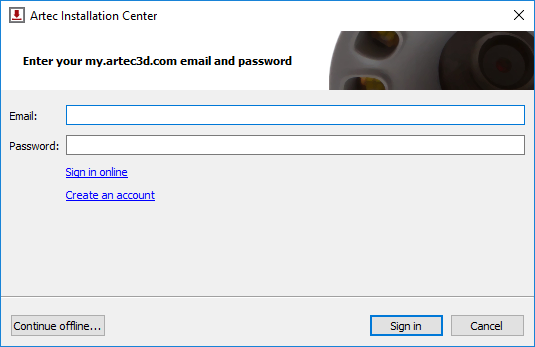 The offline activation dialog will be displayed. Click on "Activate offline":
Click the "Save..." button. This will generate an Activation ID file. Save this file to your flash drive and transfer the drive to the other PC/tablet (the one with the working Internet connection).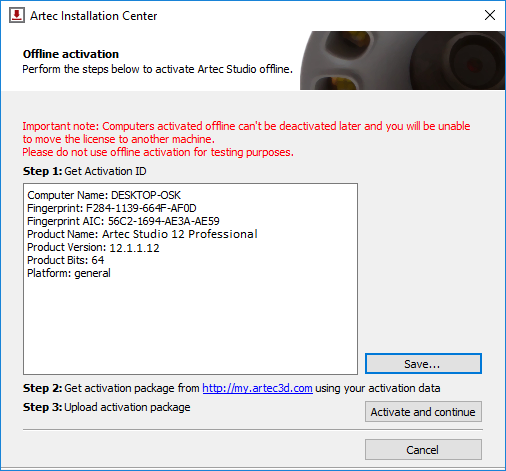 On the online PC, navigate to

my.artec3d.com

and log in to your account. Once logged in, open the

"My software"

page.
Locate Artec Studio in the list of products and click on it. This will take you to a new page as pictured below: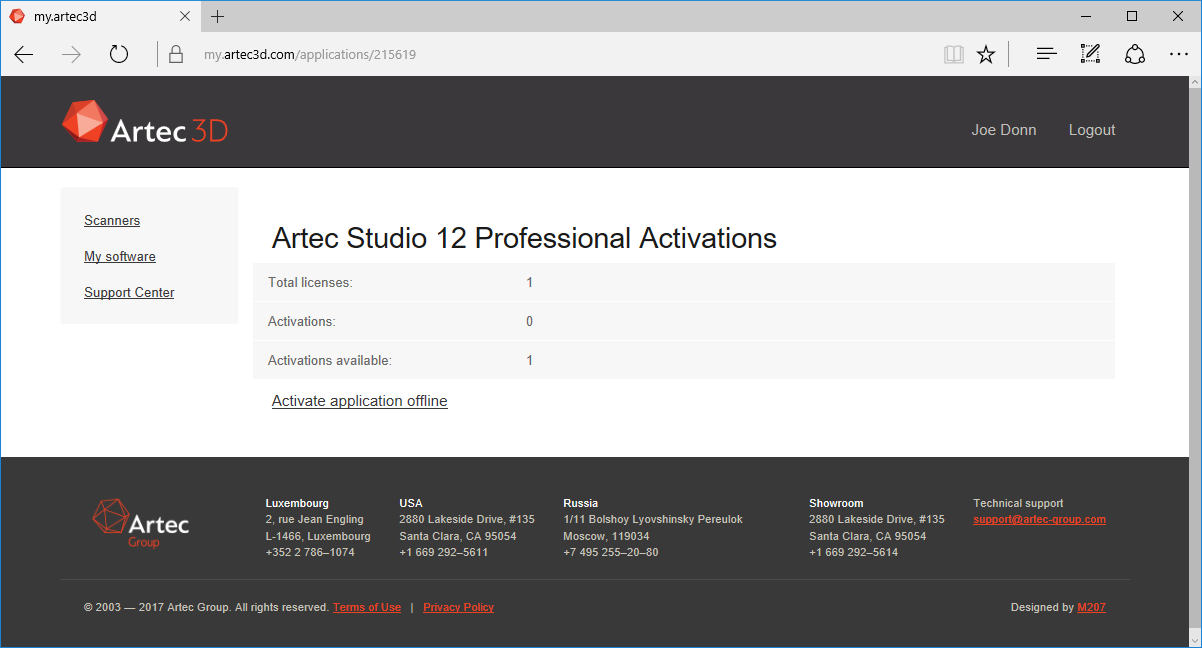 Click the "Activate application offline" link and select the Activation ID file from your flash drive.
A new dialog window will appear. It will allow you to download the newly generated Offline Activation Data File. Save this file to your flash drive and transfer it to the offline PC.

Important note: Once the Offline Activation Data File is generated, your number of available activations on

my.artec3d.com

will decrease by one, thus using up that license.


On the offline computer, click the "Activate and continue" button in the offline activation dialog (pictured below) and select the Offline Activate Data File from your flash drive.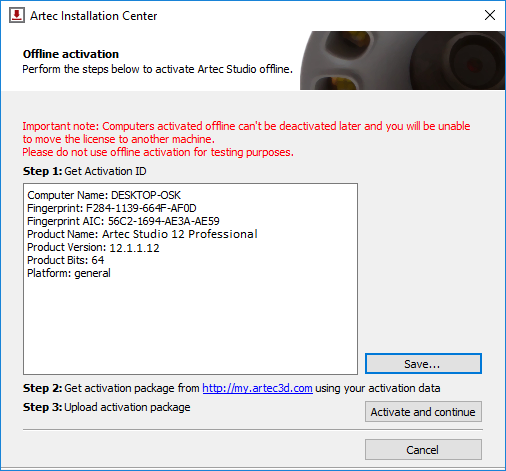 If all of the above steps were performed correctly, you will have your copy of Artec Studio activated on your offline computer. At this point, all of the Artec 3D scanners associated with your my.artec3d.com account will also become usable on this machine.
Activating additional Artec scanner(s)
If you later purchase an additional Artec 3D scanner, please follow these steps in order to activate the new device on your offline computer:
Your local reseller will provide you with an updated Offline Activate Data File.
Unzip the downloaded file with WinRar (or any other application that can work with archives).
Copy all the files from the unzipped folder into the following directory on your offline PC: C:\Users\*your Windows user name*\AppData\Roaming\Artec\

Note: By default, the AppData folder is hidden in Windows. You may need to enable the "Display hidden files, folders, and drives" feature in Windows Control Panel.


Your new scanner should now be operational on your offline machine.

In case you experience any issues with your Artec 3D scanner or require technical assistance with your device or Artec Studio, in the first instance please contact your local Artec dealer/distributor directly. You can also contact the Artec Support Team by clicking on "Submit a request" button on the bottom right part of the screen or by emailing support@artec3d.com