This document describes the license deactivation and license re-activation process for Artec Studio.
General information
Deactivation is supported for:
Artec Studio 8 (starting from 8.1. version)
All versions of Artec Studio 9
All versions of Artec Studio 10
All versions of Artec Studio 11
All versions of Artec Studio 12
You can not perform license deactivation if license was activated offline (more information can be found here).
Deactivation via software uninstall
Here is the sequence of actions to perform the deactivation at your side:
1) Control Panel --> Programs and features.
2) Choose Artec Studio that you would like to deactivate.
3) Click 'Uninstall'.
4) Put a tick in option 'I want to deactivate this computer' like it is shown on screenshot below: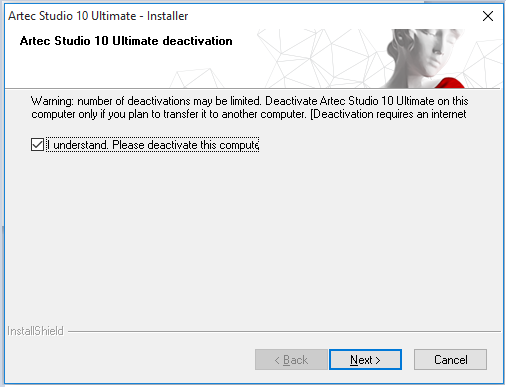 5) Click 'Next' to continue.
You will need Internet connection and full administrators rights to perform deactivation. Also please make sure that your firewall or antivirus does not block Artec applications.
Deactivation via Artec technical support
This method can be used in case:
You want to deactivate Artec Studio 8.0 version that does not support deactivation via software uninstall.
You do not have access to computer with license any more and can not perform uninstall (HDD was replaced, Windows was re-installed, etc).
In this case please send a request to support@artec-group.com or use button Ask Support above. Our team will perform deactivation and get back to you.