Our team is sometimes asked, how to capture motion and record 4D videos with Artec scanners. The following article will describe this process in more details.
Capturing motion
There is a dedicated mode in Artec Studio called Fast capture: it allows the scanner or sensor to capture "unaligned" 3D frames of the moving object.
It is possible to use one Artec scanner (or

third party 3D sensor

) for motion capture or to combine several scanners / sensors in a bundle.
To scan with one device, set "1" in Number of scanners to use in Multi section. To record the data with several scanners, choose Use bundle option.
The duration (in sec) of such session can be set up in Multi prior to the scanning process. Alternatively, you can just stop the process manually via a button on Artec scanner or Stop button in Artec Studio.
By default every 3D frame, recorded in such mode, is polygonal; it contains texture information as well.
Playing a 4D video in Artec Studio
Select your raw scan in Workspace and press Ctrl+P to play the sequence of recorded 3D frames of this scan.
Alternatively, you can double-click on this scan in Workspace and click on Play button in the upper side of the screen.
The playback speed can be set in File - Settings - UI - Playing, the default value is 15 FPS.
Switch between Solid, Wireframe or Points to adjust displaying mode:
Exporting a sequence of 3D frames
Select your raw scan(s) in Workspace and choose File - Export scans...
Choose ply, stl, obj or wrl as 3D extension and jpg, bmp or png as texture output.
Artec Studio will save a sequence of 3D frames in a specified folder.
The next step is to continue post-processing it in a third party software of your choice.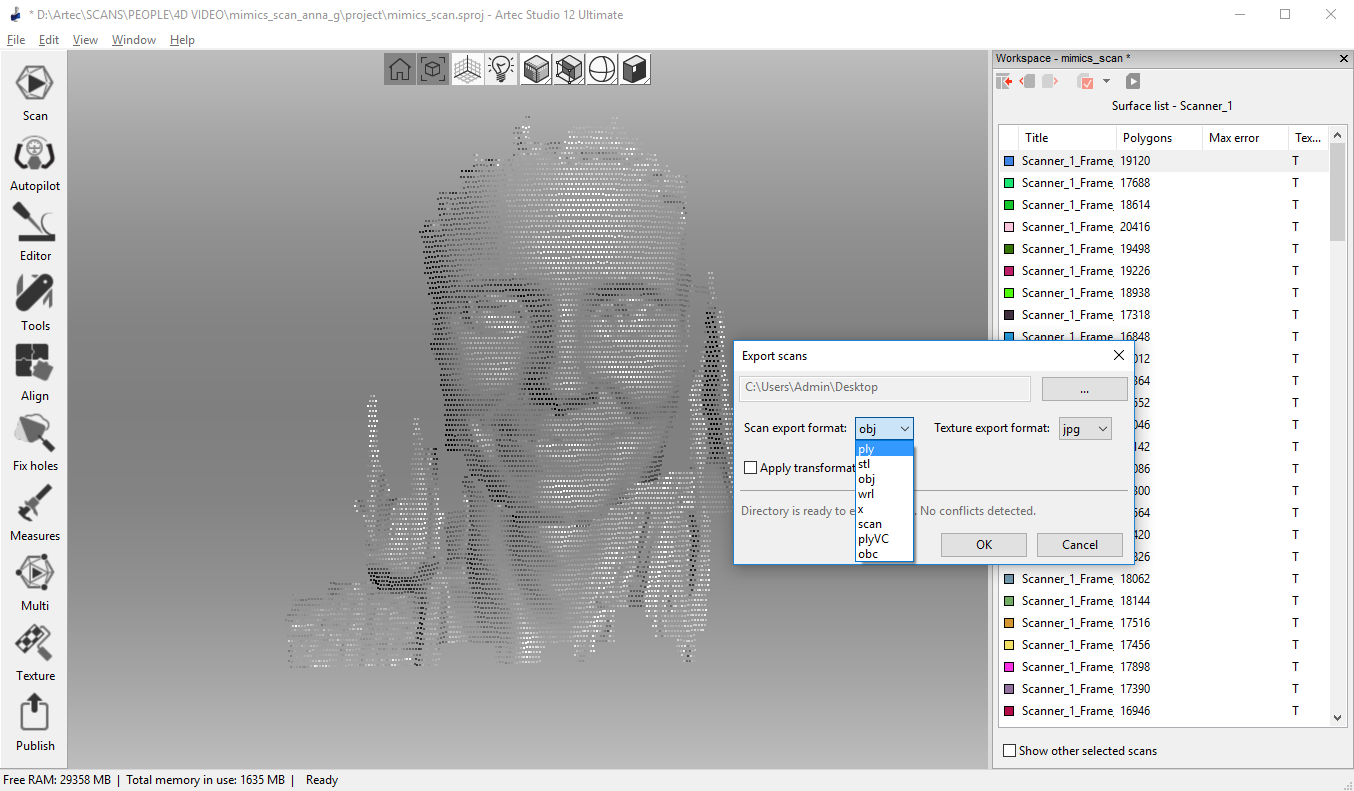 Here is a video that should give you a rough idea of the workflow:

Note: the capture devices in this video are Artec MHT scanners; they are the precursor of the Artec Eva scanner.
We are here to help! If you have any questions or issues, please do not hesitate to contact our team by emailing support@artec-group.com or by clicking on "Ask Support" button on the upper part of the screen. We will always be happy to assist you and will get back to you as soon as we can.